Summer 2018 – the sun shone for three months straight, the temperatures were hotter than Spain, and the people of Britain had constant smiles on their tanned, freckled faces. It was a definitely a summer we will all remember. Beer gardens were overflowing with joyous people – everyone wanted to socialise with their loved ones and celebrate the sunshine with a cold berry cider in hand.
Mini Bar Glasgow decided to celebrate their 5 year anniversary in Glasgow's trendy Merchant City by opening a pop up bar in George Square. It was a huge success with many coming for a post work drink before heading home. We have decided to support local Glasgow bars by offering our advice on how to create a successful pop up bar when you hire event staff and temporary buildings.
Why Open A Pop Up?
Pop Ups are a a great way to ignite excitement and increase awareness of your bar or pub. It is the trendy new way to try out cool new places to socialise. There are so many places  you can open a pop up bar to help grow your business. You can set up in a shopping centre, at a festival, in a public park, on a busy shopping street or inside a cool venue, such as a barber shop. Local businesses love supporting other local business so why not contact them and initiate a win-win business partnership. Taking the barber shop for example – wouldn't guys just love going to get their haircut and also be offered a beer, coffee and even snacks like pizza or chips? Creative thinking like this will really help your business. You can even partner up with a specific beer brand. Open a pop up in a park just selling one particular branded beer, another win-win business opportunity to increase awareness of not only the brand but also your bar.
Keep Your Branding On Point!
If you own a bar or a pub you will probably (hopefully) have a very distinctive theme or decor which will set you apart from your competitors. If you decide to open a pop up bar then ensure the branding and decor is very similar. This could involve signposting, lightening, music, colours and fabrics. If your pup offers beanbags – then ensure there are beanbags for customers to chill out with their drink at your pop up. Music is a great way to entice customers to your pop up. For example whether your bar plays old school R&B or indie rock ensure this is echoed in your pop up. There are companies, such as VBS, that can offer you temporary buildings to hire and decorate for short lived events such as a pop up at a music festival. This is also a great way to save money instead of purchasing and building your own temporary building that will probably end up going to waste after the pop up is done.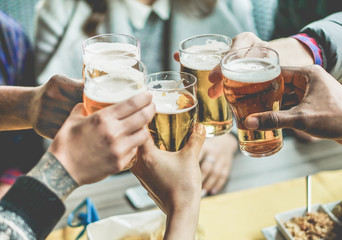 Hire Event Staff
You will probably be opening a pop up to increase awareness and grow your business. This means you probably won't have enough funds to hire event more permanent staff for a temporary event. This includes trained bar staff, DJs and staff to clean up and wash glasses and plates. Events company Ten Ten, specialise in cutting out the hassle of finding and hiring all these staff for events like this. They offer a small fee and do the work for you. Short contracts are offered and they will find the staff you are specifically looking for. This means you will have more time to set up the pop up and enjoy it!